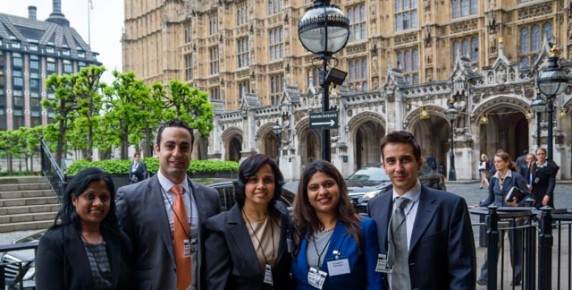 We were invited to attend a reception at the Houses of Parliament to launch new evidence to save mothers' lives. This was held at the Strangers' Dining Room on the 20th of May and it gave us an opportunity to meet some of the other organizations and people working on this very important area (as well as the added bonus of cream tea!).
One of the key aspects of the CALMED project, which MaTI has been a collaborator of, is the promotion of the role of women's groups. These play an integral part in improving women's health by advocating for better services, sharing experiences and learning, as well as sticking together in times of trouble. At the Houses of Parliament a scientific paper was launched presenting the outcome of an analysis of all the published studies looking at this particular intervention. This was hosted by Baroness Jenny Tonge (Chair of the UK All Party Parliamentary Group on Population, Development and Reproductive Health) and Lord Crisp (Chair of the UK All Party Parliamentary Group on Global Health), in collaboration with UCL's Institute for Global Health and the Women and Children First (UK) charity.
Findings from Bangladesh, India, Malawi, and Nepal (comprising of 7 randomised studies) showed that exposure to women's groups was associated with a significant reduction of 37% in maternal mortality and a 23% reduction in neonatal mortality.
Five MaTI members, along with the Director of CALMED Mr Basu, were present at this meeting and it was reassuring and encouraging that our work with CALMED thus far is indeed worthwhile and effective. The presentation confirmed that one of CALMED's key interventions has excellent scientific evidence available and we had the opportunity to meet many others who shared our views and beliefs.
We will keep you updated on further projects planned (and these may be implemented as soon as January next year). In the mean time we have a couple of new videos coming up which we hope you will all find very useful.
Best wishes to you all
Ippokratis and Haider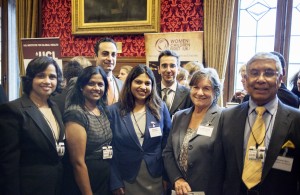 The CALMED team with Baroness Tonge