Our last day in Sikkim saw another busy schedule. We visited the studios of the Nauyma TV network for some filming; we met with local women's groups representatives; and we had a final farewell evening with our lovely hosts.
The morning started with Ippokratis gazing at the cloud formations after his breakfast with a cup of delicious Sikkim tea, wearing his jeans (in a welcomed rare instance in the last few days of formal functions), when Haider approached him and spluttered out with barely concealed panic: "Do you have my phone?". "Of course not", replied Ippokratis showing him his own phone. "Why would I?". Ippokratis tried to call it but to no avail as there was no cellular reception available. The calm of the moment had been lost. The clouds mattered no more. The phone had to be located. Upon our return to the room Haider's anxiety at potentially having lost his phone was evident by the state that it was in. It appeared as if a grizzly bear had ransacked it, after having just woken up from a winter's sleep, hungrily rummaging for food in an unsuspecting camper's tent. Ippokratis quickly went for his pocket to take out his phone and capture the moment, when he realized that he was already holding one in his other hand. Whose was that in his pocket then? "Whoops", uttered a red-faced Ippokratis. That is what happens when both have identical phones.
Midmorning the entire CALMED team along with their hosts assembled at the hotel and headed for the studios of the local TV network – Nauyma TV. There we were carefully positioned in seats and mic-ed up, as the talk show host joined us. This was going to be more than an interview as part of a short feature as we initially thought. In fact, we filmed for a solid hour and a half and the plan is to edit it down to an hour-long broadcast that will fill up the entire episode of one of the shows of this popular local weekly programme. Despite the fact that the filming was conducted half in Nepali and half in English, Ippokratis was very happy that he still found the opportunity to convey the message that MaTI and GLOWM are a wonderfully rich, and free, resource of on-line educational material for all to use!
We are reminded that CALMED is more than just training health professionals. In order to ensure sustainability, it must also include the involvement of local women's group. To that end, in the afternoon we met with women's group representatives. These included 16 representatives from the; State women commission; Inner wheel; NHRM; and State ASHA trainers. We discussed women's involvement as the third arm of the CALMED programme and developing of an advocacy role to concentrate at the bottoms up approach, linking women from the villages. The local lead of the inner wheel group, Dr Renu (who is a remarkable lady) has made it her personal mission to organize these women's groups in to providing the necessary framework to keep the link between healthcare providers and women open. In addition, one of the newly trained faculty members which was also present at the meeting informed us that she is already planning a training session with peripheral health workers next week. The skills transfer model is clearly already underway.
The meeting was also attended by a representative of the Chief Minister of Sikkim. It appears that news of our work reached his ears. Apparently, he was planning to have an audience with us. However, as one would expect, he was hard pressed for time today so he couldn't make it. Nevertheless, via his representative he sent us gifts as a token of his appreciation for our work along with a personal message of support. In return, his representative recorded a video greeting from us and requested if we could arrange for a report from our work to be sent personally to the Chief Minister himself. The gesture was very touching and we are more confident now that with such heavyweight political support our CALMED work in Sikkim will be more sustainable.
We have now come to the end of our training trip and we are all very tired. Although every single of the five MaTI members that attended as part of the CALMED programme did so by using their annual leave allowance, this was definitely not a holiday but hard work indeed. Our bodies might be tired and our brains buzzing but our spirits are high. We return back home with a life experience gained and a sizeable collection of Khadas to prove it as well!
After twelve days in India, Ippokratis and Haider found the only store up to now that sells diet coke. It was like manna from heaven! We bought two and consumed them in one go. Disappointingly it didn't make us happy. Maybe these twelve days without one cured us of our addiction. Fresh air and non-stop work does marvels for ones cravings!
The evening saw a farewell dinner organized by our local hosts and more wonderful presents offered to us. To them we are eternally grateful, as our work in Sikkim would have never been possible without them. Too many to mention, and fearful of inadvertently and inexcusably missing someone out, they are now are friends. We would also like to thank the Rotary International and the rotary districts in Kent and Sikkim for their funding and hospitality.
Tomorrow we will be leaving the majestic scenery of the Himalayas and the city of Gangtok draped on the sides of the mountains like the hanging gardens of Babylon. Then our laborious two-day trip back to the UK starts in reverse order, starting with another bone crunching six-hour drive with an overnight stay in Siliguri, and then on to New Delhi for two nights. We are all looking forward to seeing our friends and loved ones, as communication with them and the outside world in general has been problematic whilst here to say the least.
We have a final confession to make; some of us were initially skeptical as to the way that we would have been greeted upon our arrival and if those that we were meant to help would have found what we were offering of use. At the end of an exhausting few days we are true converts. It is obvious to us now that all involved here in Sikkim have really appreciated having us, as the feedback was just phenomenal. Not a single negative comment. And what is more important, they can now do it all themselves. We can put our hands on our hearts and say with true honesty that it has been worth it.
The next two areas where the CALMED model will be implemented are in Patna, in Bihar (with the initial visit by a professional vocational team planned for end of 2013/beginning of 2014) and Gujarat, both in India. The funding application is on its way and we are hopeful that it will be granted. In fact, a representative from Bihar came to see us whilst we were training in Sikkim and he is very eager for a CALMED team to visit him next. The disappointment in his face was obvious when he asked us if we could visit next month as they really could do with our help and we had to explain that unfortunately that would not be possible for various logistical reasons.
Although our training trip is over, our work at Sikkim is not. All five MaTI members that took part have formed mentorship relationships with the newly trained faculty. We will be keeping contact electronically and support them in their work commenced with CALMED. We eagerly await the data that they are going to collect and we already have a lot with us that we are analyzing. In addition, Haider and Ippokratis are preparing a 10-15 minute film documenting this trip. It will be used as a mean to raise awareness and promote the CALMED programme. The footage has been shot and now comes the long and tiring process of editing the scenes. The storyboard looks amazing and we hope that you will enjoy it. When it is ready we will post it for your viewing pleasure!
Thank you all for following the MaTI blog during our trip to Sikkim as part of our collaboration with the CALMED programme.
Bidha pau Gangtok, and dharai dhanyabad for your hospitality.
Next stop; round 2: Bihar
Ippokratis, Haider, Vinita, Radhika and Sangeetha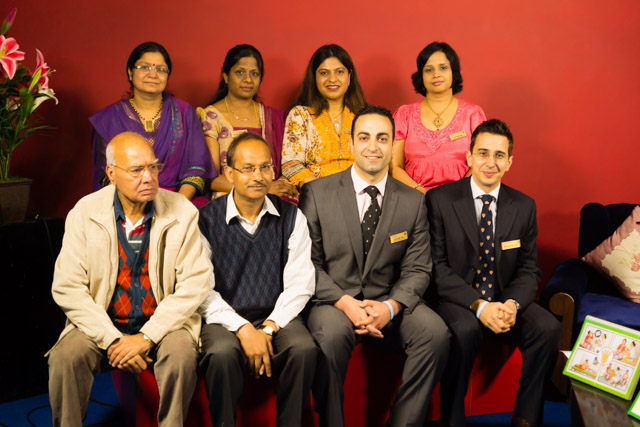 In the studio of Nauyma TV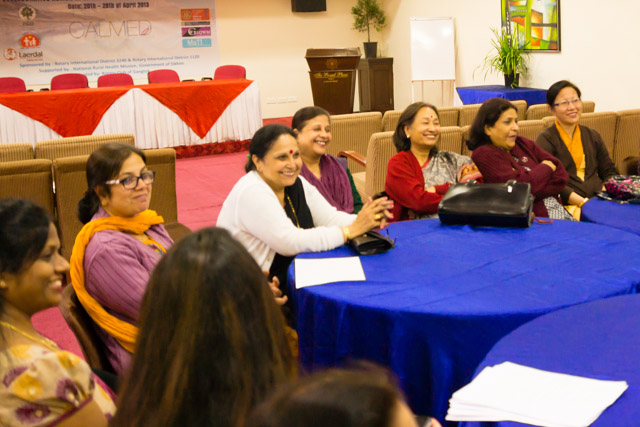 Round table discussion with the local women's groups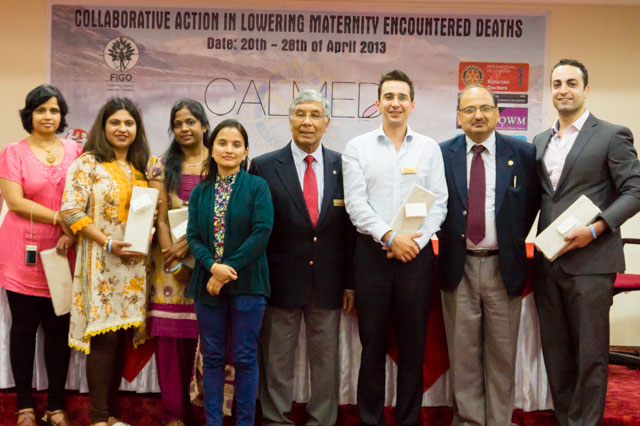 The representative of the Chief Minister of Sikkim handing over his gifts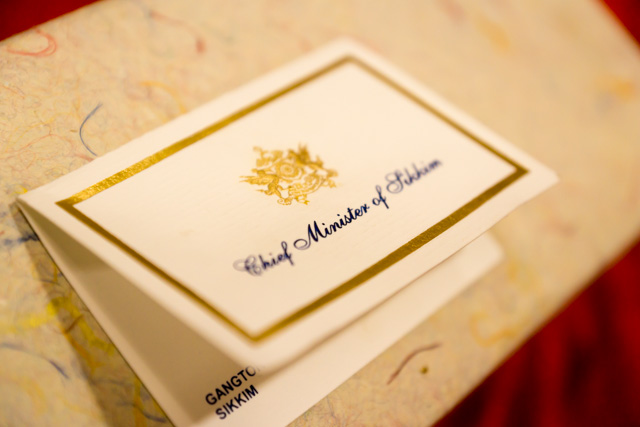 A token of thanks from the Chief Minister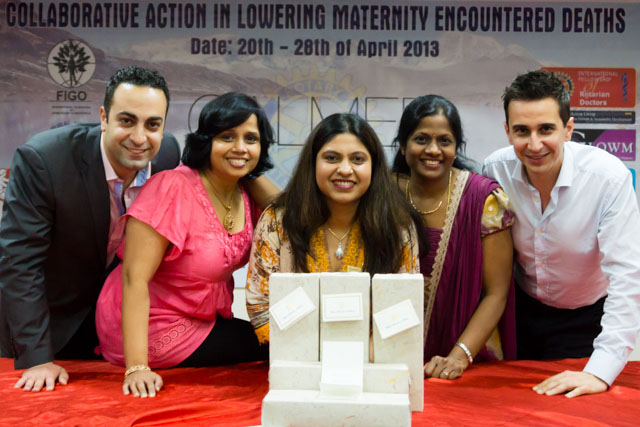 The MaTI team