Gangtok, Sikkim – Day 4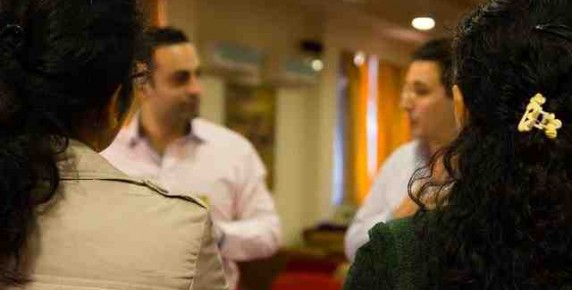 Kya  haal hai?!   (How are you? in Nepali)
After yesterday's break, the second day of our Training the Trainers course has left us with an unebbing feeling of euphoria following a very interactive and dynamic team of delegates, our future local trainers. We started with the resumption of the interactive lectures and hands-on breakout sessions. Haider's magic abilities with the audiovisual material incorporated in the lectures lighted up our delegates' eyes with awe and glee knowing that it is all being left behind for them to use as their own. Ippokratis' rendition of an eclamptic (fitting) pregnant woman provided amusement and a plethora of laughter. The positive reception and feedback on the sessions thus far is further proof (as if any was required), that our modern teaching methods and approach is a fresh brake from the traditional, dry, didactic ways.
After the last hands-on break off session, the 14 delegates chose the specific topics that they will prepare to teach on, as after tomorrow's final day of training, they will then go on to conduct their own training course under our guidance and support.
The day closed with the Chief Medical Superintendent of Gangtok, Dr Yogesh Verma, and CALMED programme Director, Dr Himansu Basu, giving a short pep talk and words of encouragement to our new trainers. Their tired but inspired smiles said it all.
On a lighter note, the clouds covering the valley have been playing with our visual senses as they have been performing some amazing formations in a constant dance of flowing movement, ranging from clear skies to complete fogging and back to clear skies within a matter of minutes. We have also felt three short but vigorous earthquakes, probably the aftershocks of the big earthquake in China two days ago. Luckily, and despite the fact that Gangtok is essentially built on stilts on what only can be described as a cliff, we have not found ourselves sliding towards the bottom of the valley!
Our evening finished with the customary warm embrace of our hosts' hospitality. Food continues to flow plentiful and delicious, and we are as always eternally grateful. We were also joined by the Director of NRHM (National Rural Health Mission), Dr Pradhan, and the Dean of the Manipal Medical School of Sikkim, Dr Juneja. The Dean has invited us to his medical school on Wednesday to lecture the students and he is very keen for us to help him set-up some further training courses. More on this to come.
Namaste
Ippokratis and Haider