Gangtok, Sikkim – Day 8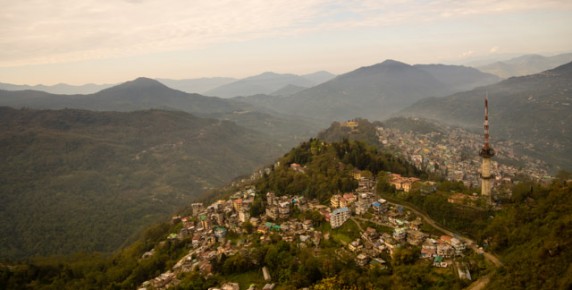 Today saw the end of our second course, this time run by the faculty previously trained by us; we started preparations for the next stage of the CALMED programme starting tomorrow; and we said good buy to our newly found friends.
Haider and Ippokratis struggled once more to sleep. But this time it was not just the tea. Howling dogs kept us up most of the night, and Ippokratis was convinced that they were heralding the end of the world. Luckily, that did not happen. We kept the daily routine though of being woken up by the beat of drums and the humming of Buddhist monks as they performed their morning prayers. We decided to make do with alarm clocks from now on as we guessed that this could be the only right way to wake up in a city steeped in religion. A stone through from Tibet, frequented by visitors in search of spiritual cleansing; it just adds to the aura of mystique already abundant in Sikkim.
Our newly trained faculty again beat us to the morning roll call. Watching them today running the final day of their course was akin to watching a well choreographed and impeccably performed ballet. They were effortless, efficient in their work and buzzing with excitement. It looked like they have been doing this forever. Haider and Ippokratis plugged quickly in to SPSS the pre- and post- test scores for their trainees and showed once more a statistically significant improvement.
The day closed with the kind of official and staged ceremony that we have come to expect, with the NRHM (National Rural Health Minister) director, Dr Pradhan, attending as the guest of honor. He pledged that the NRHM will continue with the training instituted by the CALMED visit and take upon itself to help the new faculty and provide them with the resources needed to continue the work started over the last few days. Sangeetha got a special mention from him for the development of "appropriate technology"!
Despite constantly asking for feedback by our trainees as to how we were performing and what they thought of our programme, we appreciate that when one has a negative comment to make it is better done anonymously. We therefore invited our trainees to anonymously write comments in a book. At the end of the day we all looked at it. To our amazement, there were no negative comments. In fact, because everybody had written so many nice things they all printed their name next to what they wrote because they wanted us to know whom it was from. A brief selection includes:
"It was a lifetime opportunity to have attended this course as nothing like this has been done before, and we are very grateful for you coming all the way from England" – Midwife trainer
 "I feel very confident that I can now handle the emergencies taught. Good food and ambience which is very important as well!" – Medical Officer  
 "The thing we enjoyed the most was the videos" – Midwife
"When we first started, we were skeptical as to the need for another programme. But after the first day we all fell in love with it. The visual material, the simulators, the systematic approach; we loved it all and can see how useful this training has been" – Hospital Doctor
"We enjoyed being trained, and we enjoyed training" – Hospital Doctor
"The only negative comment I have is that you will have to come back and do it all again as we enjoyed it so much!" – Hospital Doctor
In fact, CALMED is planning to come back to Sikkim to follow-up on the progress of the programme in 12 and 24 months.
Our newly trained faculty had a final surprise for us, as they presented us all with presents as a token of their appreciation. What made us particularly proud at MaTI, was how so many trainees came up to us individually and told us how much they liked our videos. In fact, a number of them have already registered with the MaTI website and our Facebook page so that they can keep in contact with us and use new material as it is being produced.
Having the material is one thing. But showing them how to use it is another. At MaTI we feel that what we have donated is more than just our knowledge. It is also the skill set to disseminate it. The USB keys with the GLOWM and MaTI material pre-loaded, along with the simulators, has given them some of the tools. The training they received these last few days in how to use these tools will hopefully act as a pebble tossed in the water, and our trainees like the ripples will propagate this knowledge through this lake which is Sikkim. We just wish that we could give them even more.
With a sadness in our hearts we had to bid farewell as we are leaving our new found friends. Nevertheless, our work does not end here and with these two courses. The three prong approach of CALMED continues tomorrow with part 2 of the programme; teaching ASHA trainers (Activist Social Health Assistant), ANMs (Auxilary Nurse Midwives) and LHVs (Lady Health Visitors).
On a separate note, as part of the effort to ensure the sustainability of CALMED's work, we found out that we have been invited tomorrow to dine with the government. We are not really sure what that actually means, but it is a "I wish I had brought another suit" moment, as the number of official functions we have been invited to attend as the guests of honour over the last 2 weeks was beyond what we excepted when we departed from the UK (which now also includes an invite to a wedding on Monday!).
All the MaTI members undertaking this trip to Sikkim (Haider, Ippokratis, Vinita, Radhika, Sangeetha) would like to use this post as an opportunity to thank all those back at home that have been sending us messages of support. We have read them all, but unfortunately we are unable to respond to them individually and we will be doing so upon our return to the UK. The WiFi where we are staying (as no doubt you know by now as we have been complaining about it like a spoilt child, but bear with us please once more) is so temperamental, that we keep on losing the signal every time we even breath close to the computer. We have transformed into this newly found class of criminal, called a "bandwidth thief", as we compete for what must be the only 3Kbytes available to the hotel's residents. We eagerly stalk for the right window of opportunity to fire-up our email browser, and when everything invariably freezes and the "twirling rainbow-coloured wheel of death" appears on screen the crushing disappointment is soon to follow. How did we ever manage a few years back we ponder?
Bidha Pau! (See you tomorrow)
Ippokratis, Haider, Vinita, Sangeetha and Radhika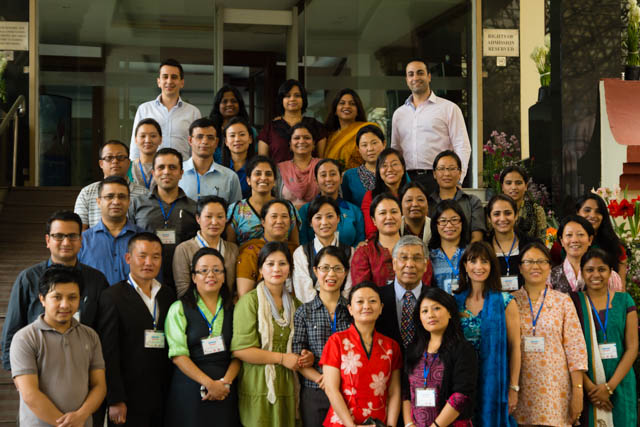 The new faculty with their trainees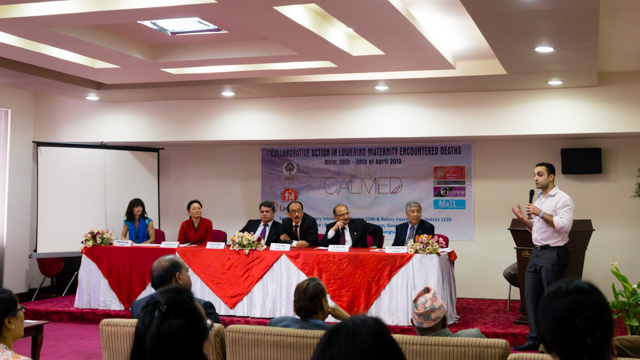 Haider talking about MaTI and GLOWM at the closing ceremony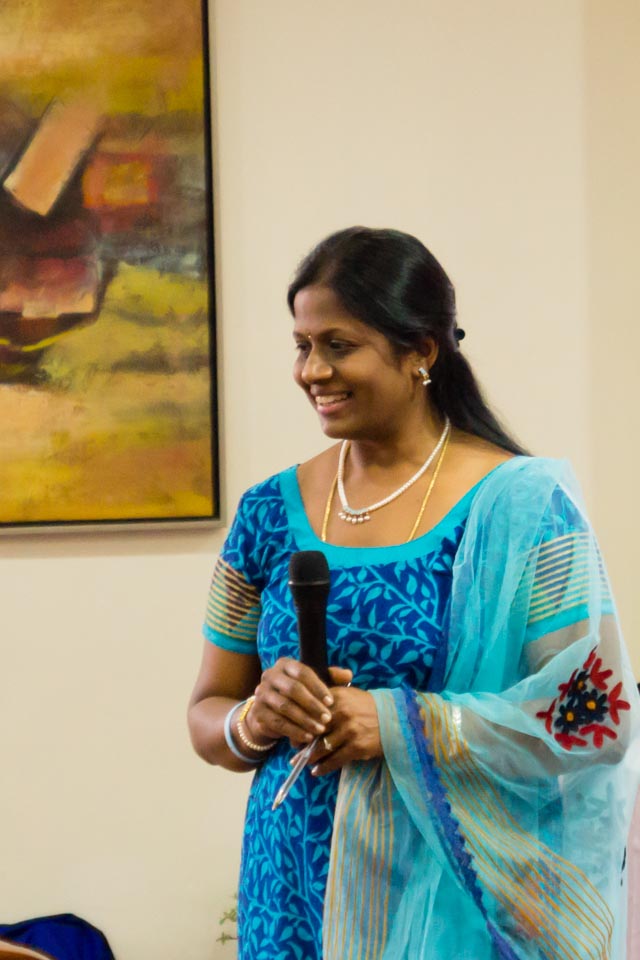 Radhika addressing the trained delegates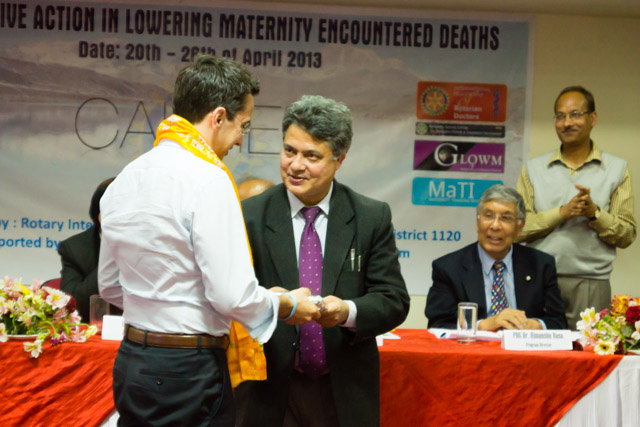 Ippokratis receiving the gifts given by the trained faculty by Dr Deokota, Assistant Professor of the O&G department at Sikkim General Hospital