Gangtok, Sikkim – Day 9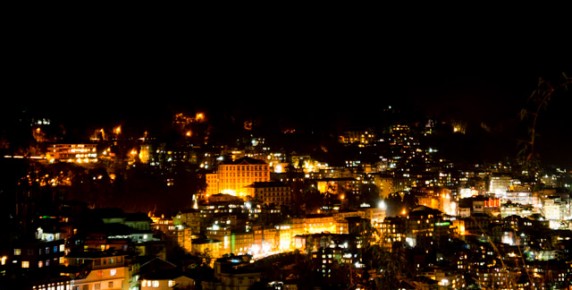 Today saw the launch of the second component of the Calmed programme; we dinned with government officials; and marveled at the clouds.
To save cost (it is a charity after all!) Haider and Ippokratis (as well as Sangeetha and Vinita for that matter) have been sharing a room. It has been an experience akin to a slumber party, but instead of talking about teenage fantasies we are talking about stats, papers and future MaTI projects. Nevertheless, it still took us back to our childhood. From the nightly nonstop post lights-off chatter to the daily morning rush to the shower (or rather the fight of who should go first so that the other can snooze in for another 15mins!), it has been a fun experience!
In the morning we were greeted by a mix of 38 ANMs (Auxilary Nurse Midwives), LHVs (Lady Health Visitors) and ASHA trainers (Activist Social Health Assistant) who had travelled from around the region. For the first session we chose a selection of MaTI and GLOWM videos to present and talk about on topics that we deemed appropriate and relevant to the level of our audience. We proved our adaptability when after the coffee break, and whilst mingling with the group, we realized that our delegates were eager for an even higher level of complexity of topics. With some fast passed thinking and with the entire MaTI and GLOWM library at our fingertips, we re-arranged our presentations and accommodated their wish within minutes.
For the second session we run some basic skills brake-out stations and discussions using pictorial, non-language based, flip charts. The attendees pleasantly surprised us again by asking for further hands-on simulation training and we were happy to oblige! Pity their transport arrived and they had to go, for they were clearly hungry for more. This is definitely a part of the programme we could do with more time during the next visits. We hope that the knowledge and skills we showed them will percolate in to the community. Some of our previously trained faculty from the first few days of our CALMED visit are keen to also take forward this phase and continue the ASHA, ANM and LHV training.
The afternoon was filled with administrative tasks, looking at the inventory of equipment left behind and tiding up some loose ends. Haider and Ippokratis signed the books left behind in hard copy (which are also available electronically for free on the Global Library Of Women's Medicine website) in their capacity as Executive Editors of GLOWM – "Textbook of postpartum haemorrhage" & "Gynaecology for less-resourced locations".
The training part of our trip is now over, but the programme is not finished just yet. Tomorrow we will be meeting with local women's groups to enlist their help and discuss their involvement and development of an advocacy role.
In the evening we dinned with representatives from the government and the NHRM (National Rural Health Mission). The venue had imposing views of mount Kanchenjunga. Or at least so we were told, as in typical fashion it was being uncooperative and shrouded in clouds and darkness. At least the food and the excellent hospitality of our hosts kept our spirits high and we soon forgot our moody mountain friend. During the customary formalities and exchange of presents, the Health Secretary invited one of the newly trained faculty to stand up and tell us of her experience of her training with us and if it was of any use. She narrated the following story:
"About four weeks ago I was called by one of the doctors from a PMC (peripheral medical centre) where they had a shoulder dystocia and they didn't know what to do. Although I knew what I would do I couldn't explain it to them properly. I saw the same doctor at the course when I was training them after we had been trained ourselves on how to train. She came up to me and said; I wish I had been to this four weeks ago because that baby would have lived."
Stunned silence followed. We now appreciate unequivocally that our efforts and sleepless nights working on this programme were well worth it.
In between some of the day's work we managed to steal a few minutes and settle at one of the big bay windows of our hotel overlooking the valley, where we were treated to a performance only mother earth could put on for us. The valley unfolding beyond us was engulfed by ever shifting cloud formations, some settling between the rolling peaks for a nap, others charging through in a rush. We could just spend the entire day looking at them as they played hide and seek with the mountains. This is what the gods of ancient Greece must have felt like when in residence on the top of mount Olympus.
Voli Vetaula! (See you tomorrow)
Ippokratis, Haider, Sangeetha, Vinita and Radhika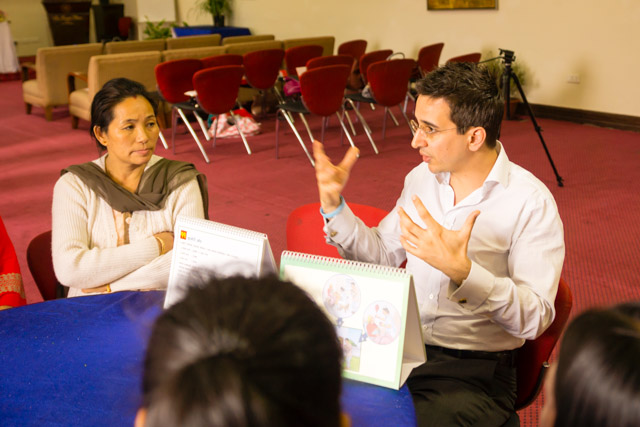 Ippokratis teaching using simple-to-understand pictorial charts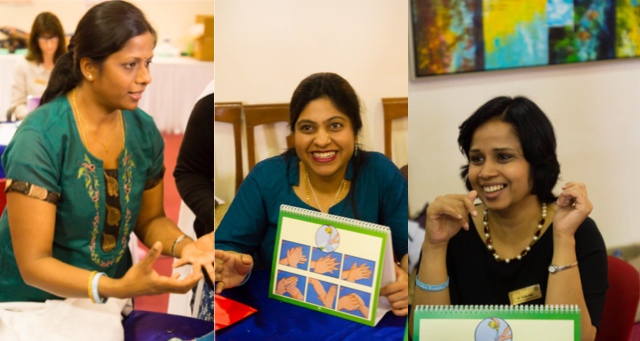 Break-out sessions with the ANMs, LHVs and ASHA trainers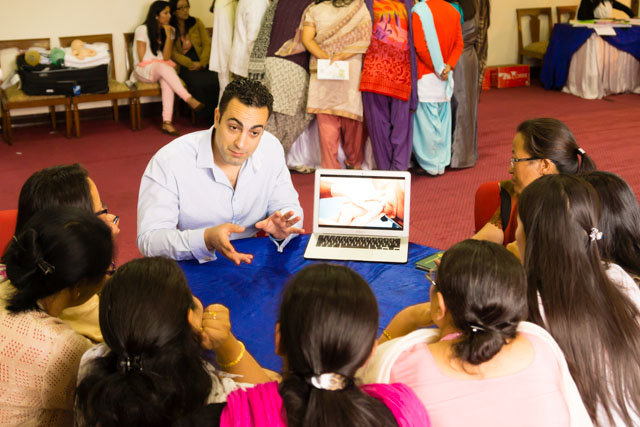 Haider doing some impromptu breech delivery training after popular request from our trainees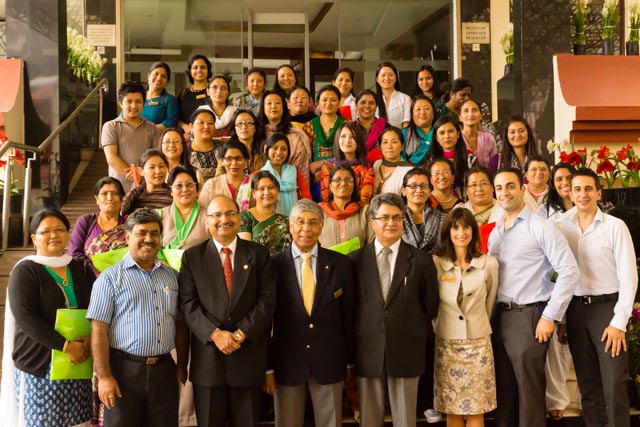 Today's ANM, ASHA and LHV delegates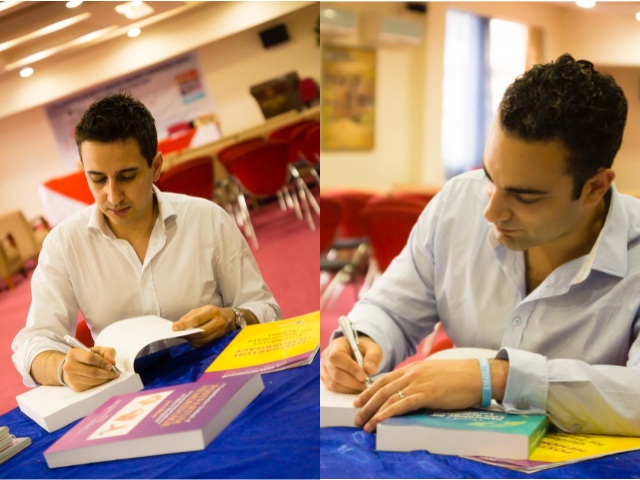 Ippokratis and Haider signing the books left behind in hard copy, in their capacity as Executive Editors of GLOWM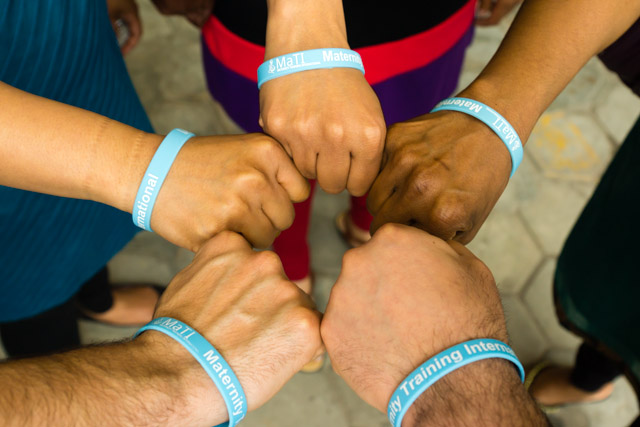 MaTI solidarity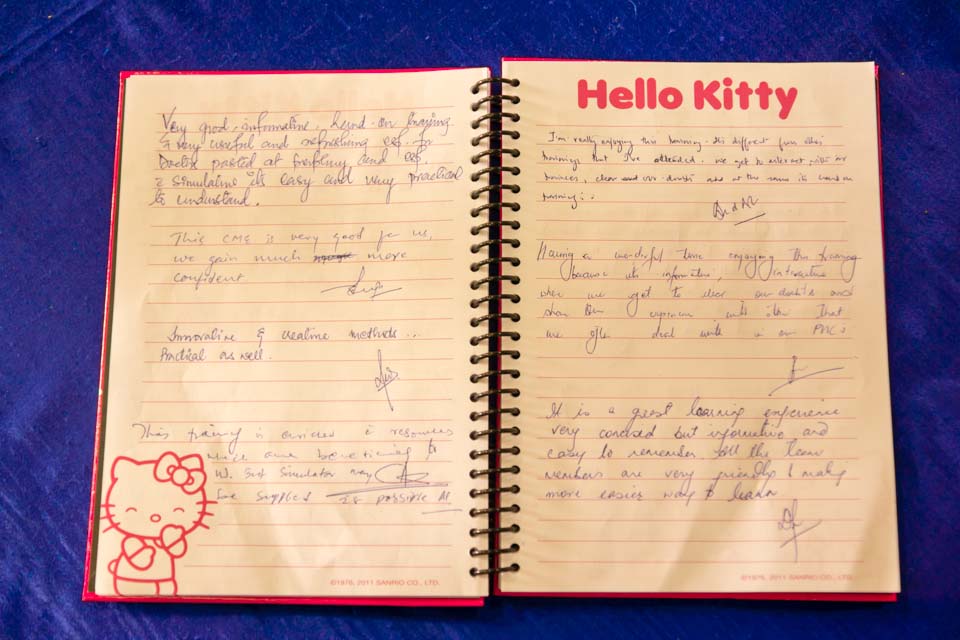 The comments book filled with lovely notes by our trainees from the entire week